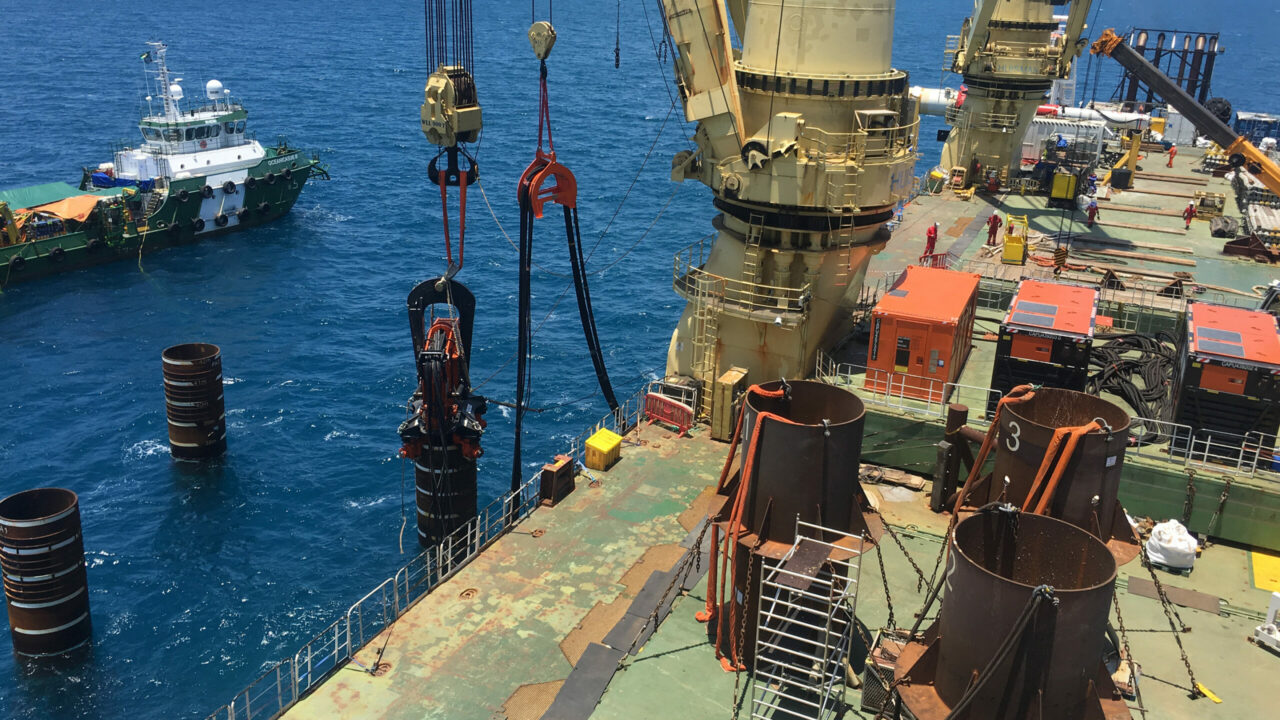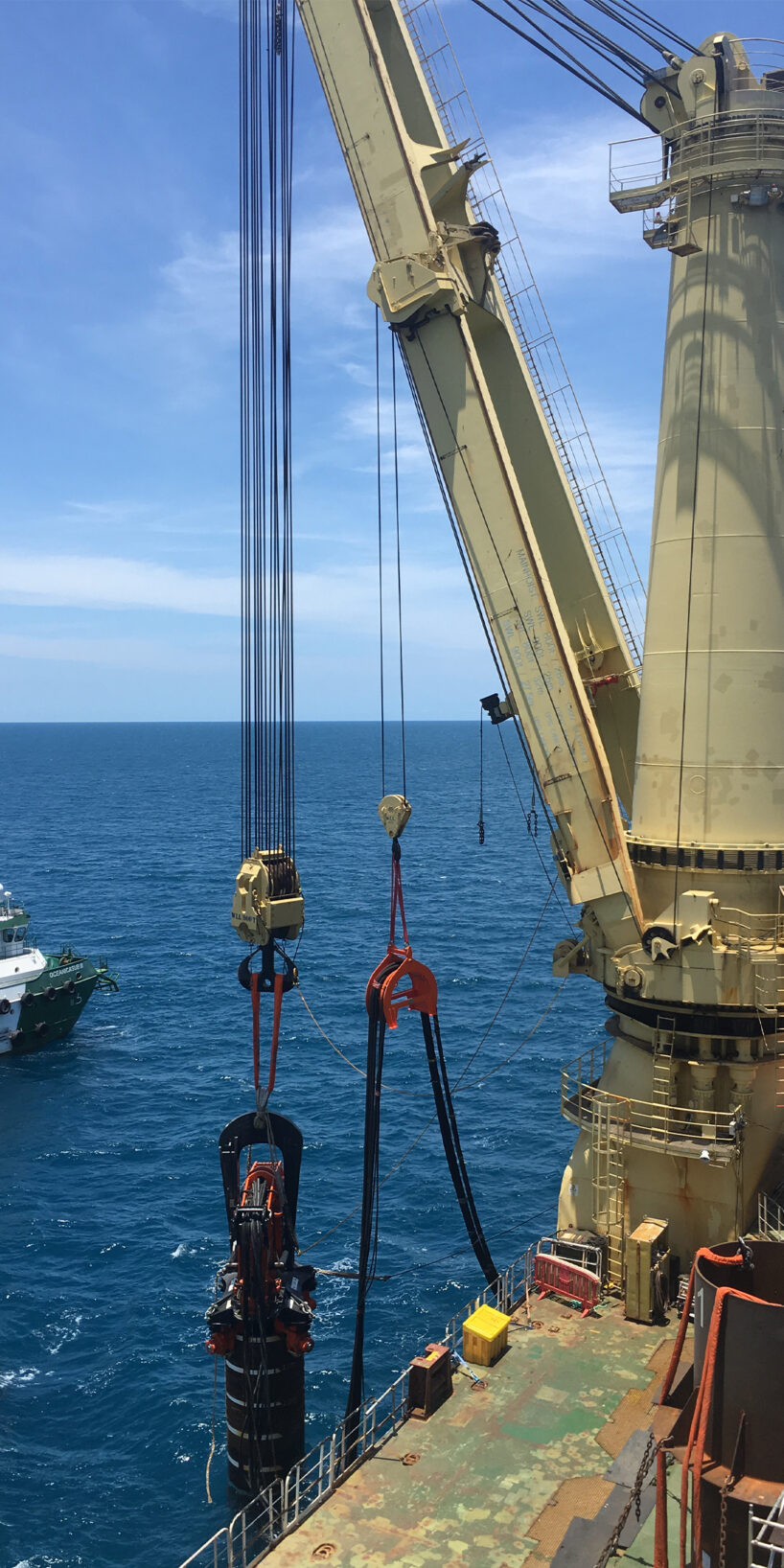 3 pin piles for Soft Yoke Mooring System
3 PIN PILES FOR SOFT YOKE MOORING SYSTEM
In 2019, the CAPE VLT-320 was used to upend and install three 96 inch pin piles with a length of 45 meter at a water depth of 20 meter. The piles had to be installed through an anchor base of a Soft Yoke Mooring System for an FPSO offshore Brazil.

The soft soil layers posed a serious risk of instability of the anchor base when the piles would be placed inside the base and released before applying the traditional impact hammer. Thanks to the fixed connection between the CAPE VLT-320 and the pile negated this instability risk completely.

The anchor base stayed stable during the vibro driving of the piles. The two cranes of the vessel made it possible to upend the piles partly submerged and negated the need of an upend frame on deck. The piles were driven with an average net driving time of just 2 minutes to the required 15 meter penetration depth.

Once all three piles were stable in the base, they were driven to final penetration with an impact hammer and follower to make it possible to drive the pile flush to the top of the anchor base.
Application
Pin pile installation
Location
Off the coast of Sergipe
System/end usage
FPSO, soft yoke mooring system
Operator or end customer
Sapura Energy Do Brasil
Installation contractor
Jumbo Offshore
Type of vessel
Heavy Lift Cargo Vessel
Name of vessel and owner
Fairplayer, Jumbo
Main Reasons for solution choice
SELECTED EQUIPMENT
CAPE VLT-320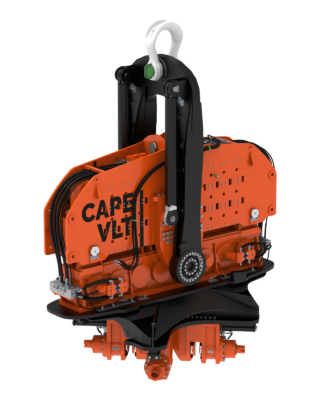 Equipment configuration
CAPE VLT-320
vibro
lifting
technology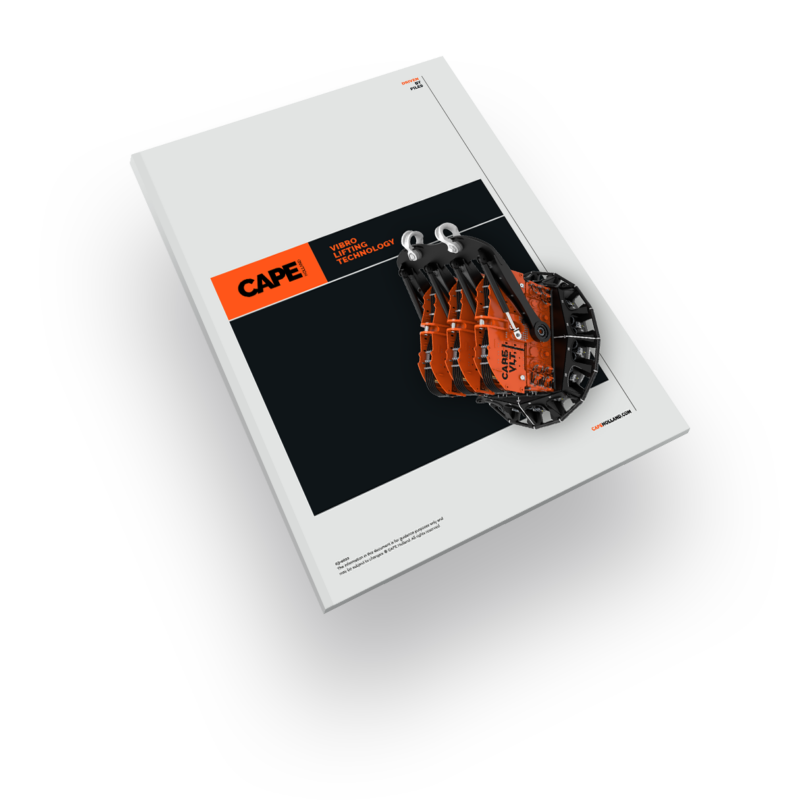 Discover how its unique features will uplift your next project; download the vibro lifting technology guide.
YOU MIGHT BE
INTERESTED IN