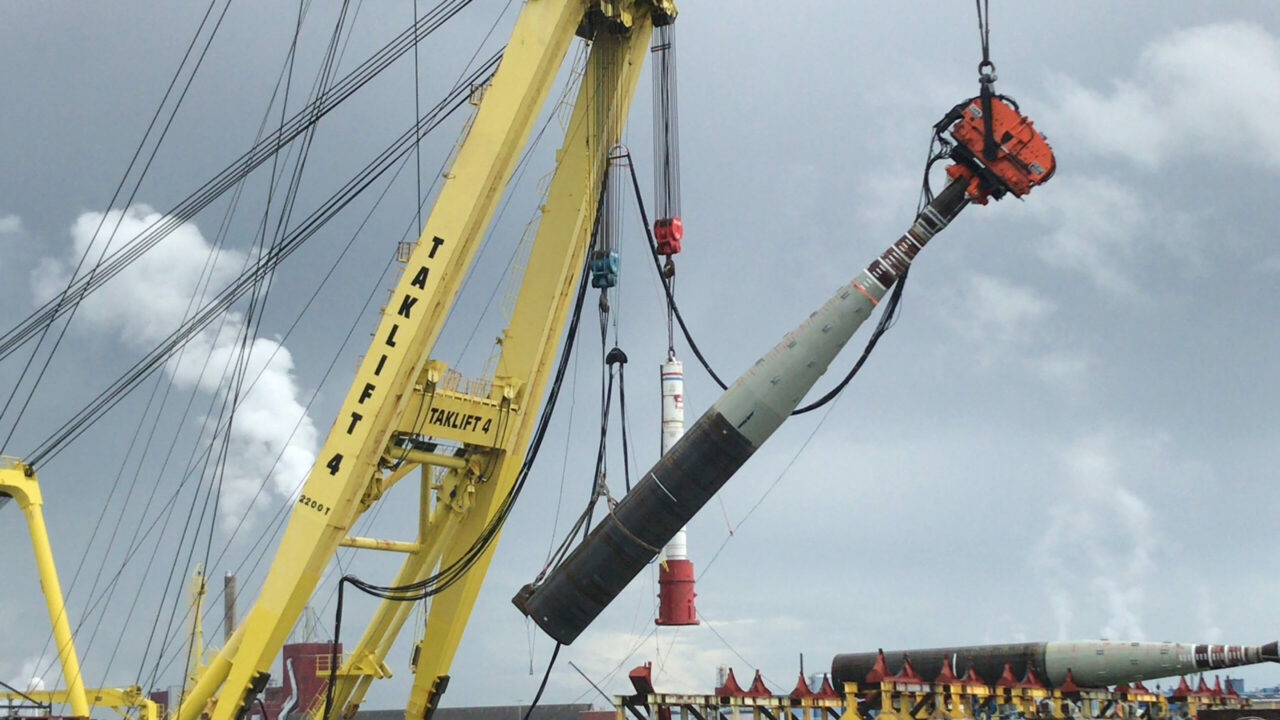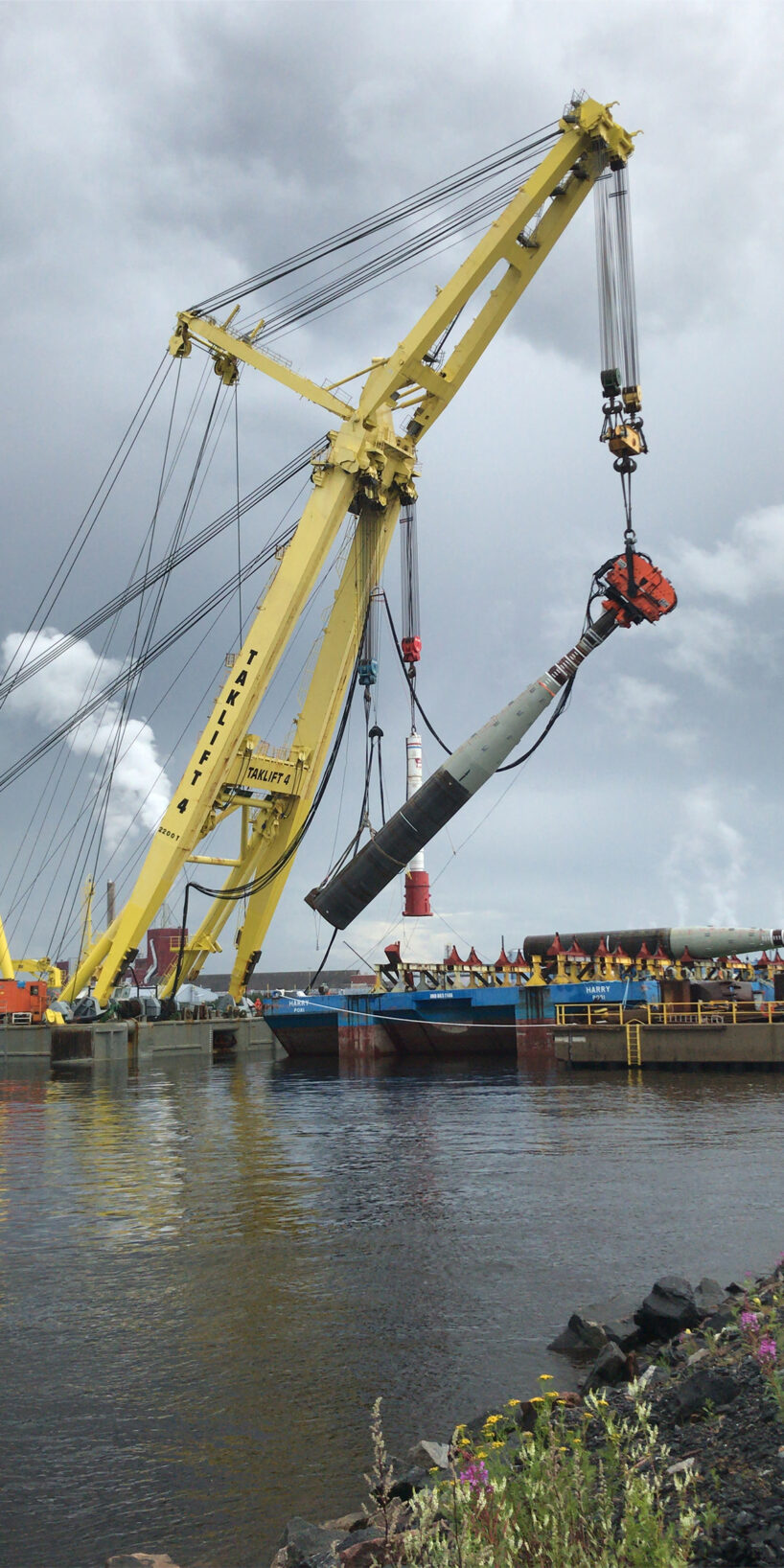 8 tapered monopiles for fixed seamarks support
8 TAPERED MONOPILES FOR FIXED SEAMARKS SUPPORT
In 2020, the CAPE VLT-320 was used to upend and install eight heavily tapered monopiles with bottom diameters varying between 2.9 and 4.15 meter, lengths between 28 and 41 meter and weighing between 90 and 206 tons at a water depth between 9 and 21 meter. The monopiles are installed to support eight fixed seamarks for the new 90km long fairway in Oulu, which has a navigation depth of 12.5 meter.

To be able to drive the tapered piles with top diameters of 830mm and 1,230mm, dedicated sacrificial pile heads were welded to the monopiles. As the region has challenging dense moraine soil conditions, special soil preparations were required. Although the base case was to drive the piles as deep as possible and to final penetration if possible, or with an impact hammer if required, in the end 6 out of the 8 monopiles were driven to final penetration by the CAPE VLT and the impact hammer was only required to be used twice.

As part of a "synergy package" CAPE Holland's HPU's provided the hydraulic pressure and flow for both the CAPE VLT as for the hydraulic impact hammer. After upending the monopiles with the CAPE VLT-320 in the protective environment of the Oulu port area, the Taklift 4 Floating Sheerleg, sailed to the installation locations with the pile hanging in the crane being held by the CAPE VLT-320. The main advantage here is that the upending operation could be performed in a sheltered area, minimising the time offshore.
Application
Monopile installation
Pile diameter bottom
2,95-4,15m
Location
Oulo port area, Finland
System/end usage
Fairway Seamarks
Installation contractor
Boskalis Terramare
Type of vessel
Floating sheerleg
Name of vessel and owner
Taklift 4, Boskalis
Main Reasons for solution choice
SELECTED EQUIPMENT
CAPE VLT-320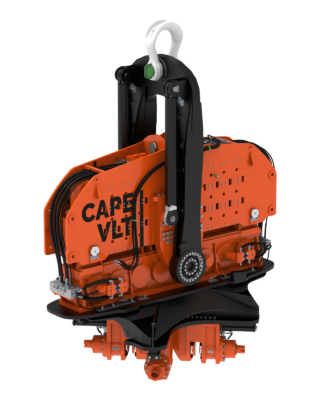 Equipment configuration
CAPE VLT-320
vibro
lifting
technology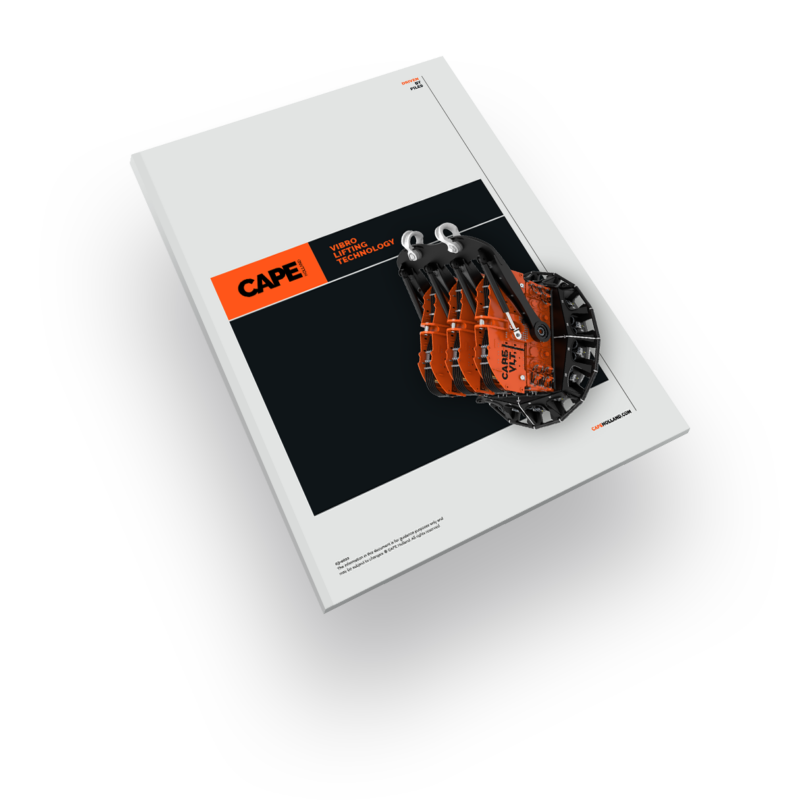 Discover how its unique features will uplift your next project; download the vibro lifting technology guide.
YOU MIGHT BE
INTERESTED IN