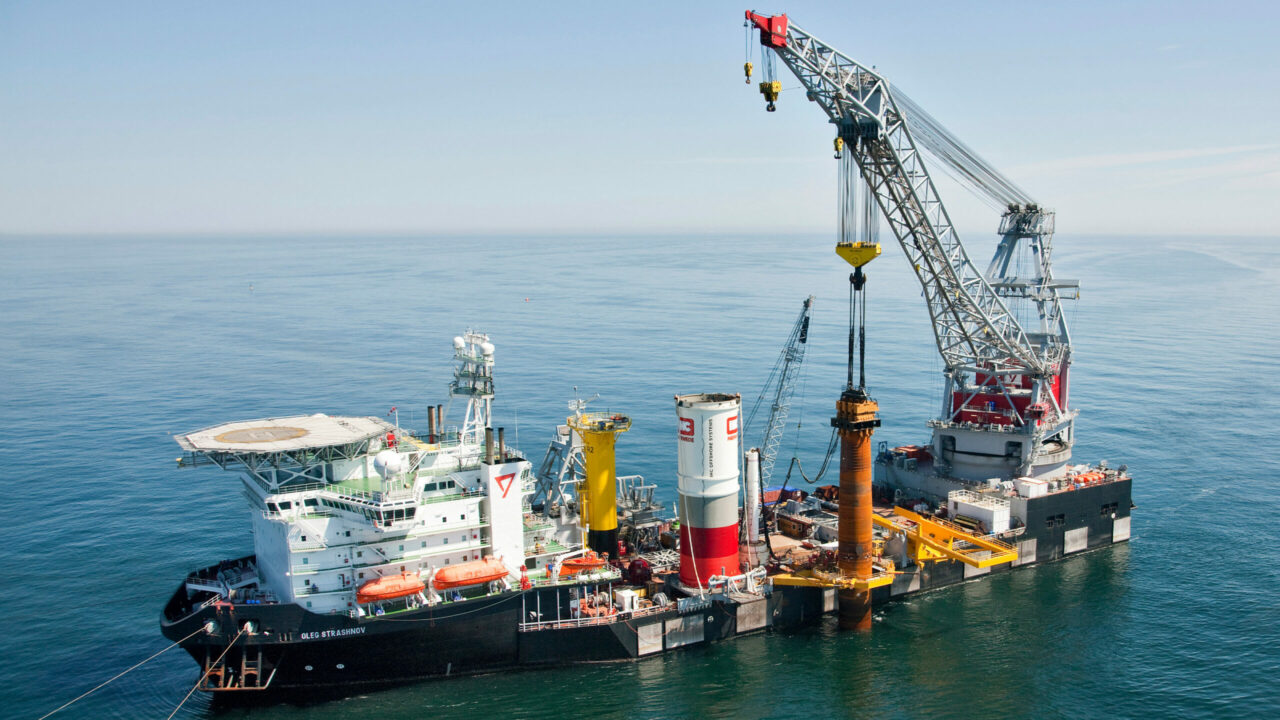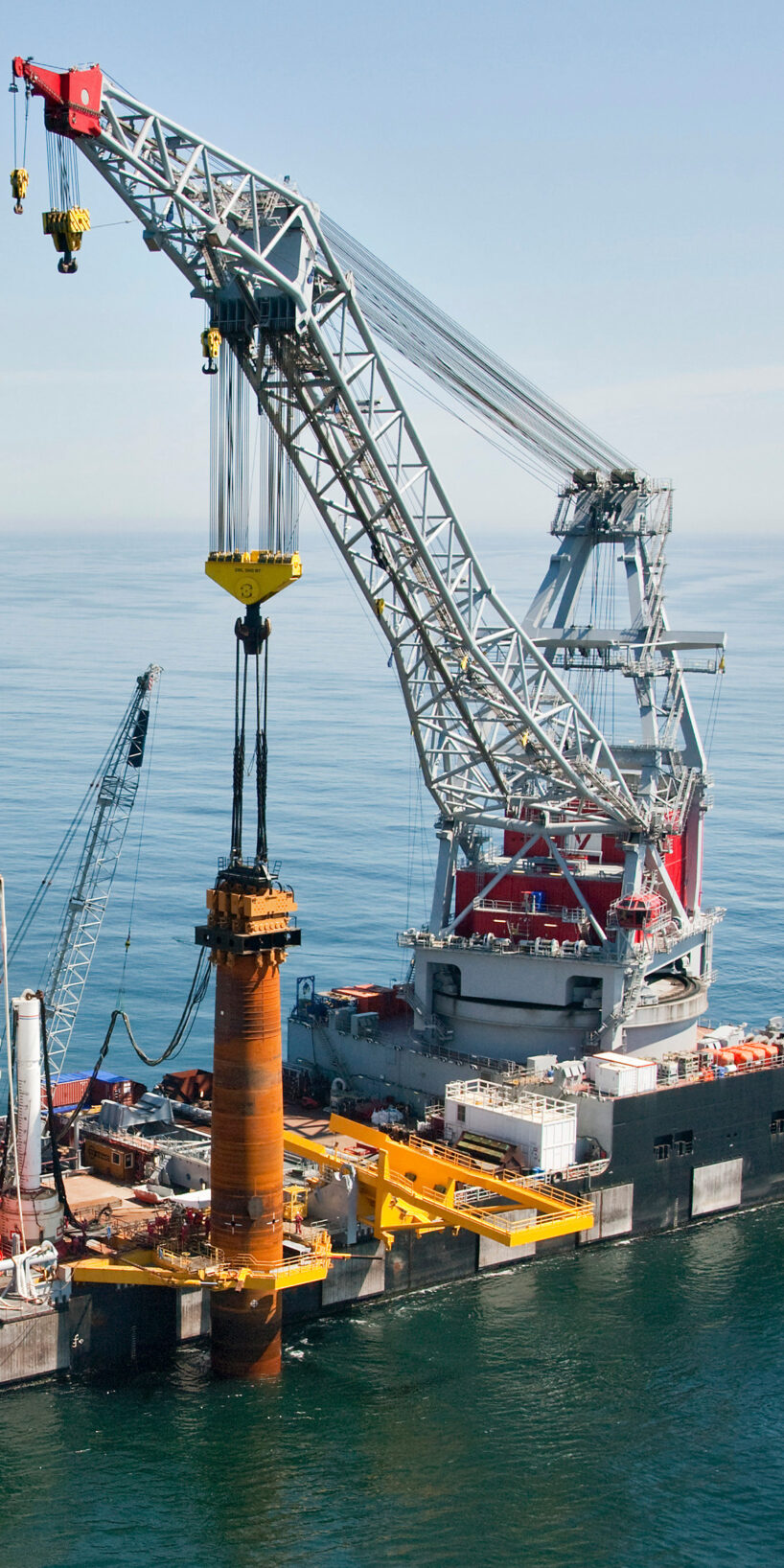 30 monopiles for Riffgat Offshore Wind Park
30 MONOPILES FOR RIFFGAT OFFSHORE WIND PARK
In 2012, the Super Quad Kong (developed by CAPE Holland) was used to install 30 monopiles with lengths between 55 and 75 meter, weighting between 560 and 750 tonnes and diameters between 4.7 at the top and 6.2 meter at the bottom to support the offshore wind turbines of the Riffgat Offshore Wind Park in the Dutch North Sea.

The piles were driven to stable depth by the Super Quad Kong in order to place a noise mitigation device around the pile which was required for the impact driving. Due to the German regulations, the piles needed to be driven to final penetration by means of an impact hammer for the last 8 to 10 meter.

During the project CAPE Holland developed an inclino system to be able to measure verticality during driving, saving valuable installation time by not having to stop working for manual verticality checks every few meters. It also made adjusting verticality during driving much easier.

For the vibro driving, no noise mitigation system was required to stay below the German Regulations stipulated levels of 160dB at 750 meter.
Application
Monopile installation
Fastest net driving time
3.5min
Location
Riffgat Offshore Wind Farm
Market
Offshore Renewables
System/end usage
Offshore Wind Turbine
Operator or end customer
RWE
Installation contractor
Seaway 7
Type of vessel
Heavy Lift Vessel
Name of vessel and owner
Seaway Strashnov, Seaway 7
Main Reasons for solution choice
SELECTED EQUIPMENT
APE 600HD
Equipment configuration
Quadkong – 4x APE 600HD
vibro
lifting
technology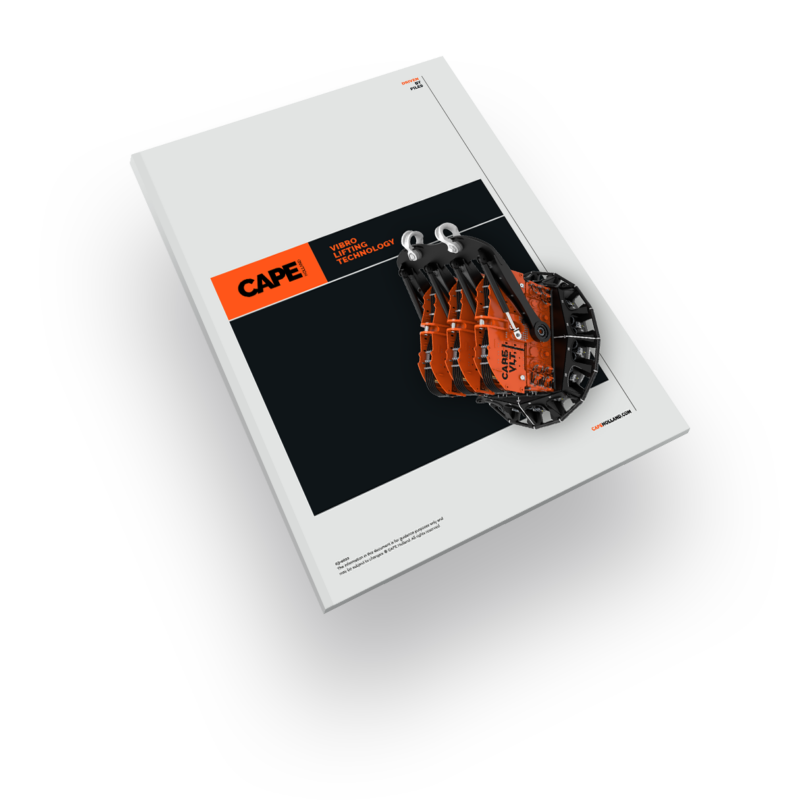 Discover how its unique features will uplift your next project; download the vibro lifting technology guide.
YOU MIGHT BE
INTERESTED IN